The Aggies 2012 football season will have a big impact on College Station
Posted by Terrence Murphy Sr. on Thursday, July 11th, 2013 at 3:59pm
The 2012 Texas A&M football season was one for the record books. The quarterback Johnny Manziel won the Heisman trophy, and the Aggies had the best scoring offense in the SEC.  If you ask students what their favorite moment of the season was, many will tell you when the Aggies beat the No. 1 Alabama in a nail biter of a game.  The Aggies ended their season by going 10-2, averaging 44.8 points per game. No SEC team in the last five years has averaged that many points per game.
Ben Malena and Christine Michael were two guys who helped Manziel secure the wins. Malena finished off the season with seven touchdowns, and 752 yards. Michael finished the season with 12 touchdowns and 417 yards.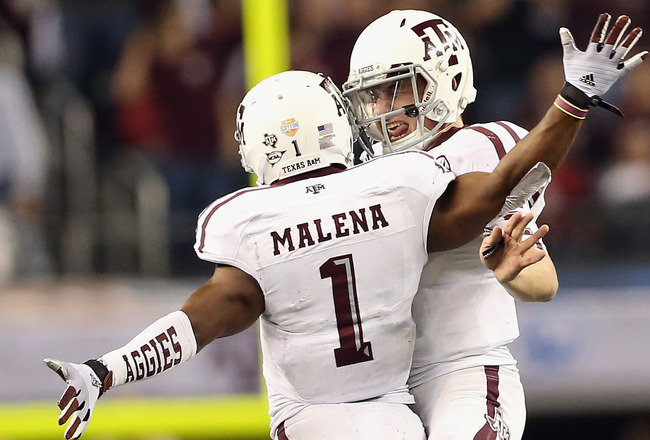 Mike Evans was another player that proved his worth lastseason. He led the Aggies in receptions and yards. Evans totaled 75 catches for 1,022 yards and five touchdowns. Experienced veterans Uzoma Nwachukwu, Swope and Kenric McNeal, combined with freshmen Evans and Thomas Johnson provided Manziel the opportunity to get his job done in this historic season.
The 2012 football season set the bar high for the Aggies and expectations for the 2013 season are soaring. The Aggies gained exposure last season that was invaluable. When College Game Day came to College Station to film a commercial and broadcast live, the city of College Station was thrust into the spotlight.  Opportunities like that combined with a Heisman trophy winner gave Texas A&M the opportunity to be noticed by everyone around the county.  In 2012 the SEC made $289.4 million, which is more than ever before.  Texas A&M will receive about $20.7 million of that money and this number is expected to keep growing in the coming years. 
If you would like to see the Aggies in action this year it will surely be an event. Season tickets are already sold out. Tickets for the Alabama-Texas A&M game are already selling for around $500 for upper level seats. Commentators are calling it the game of the season.  According to the Bleacher Report "It is arguably the most talked-about game of the 2013 season, as it will have SEC Championship and BCS implications." This is all good news for College Station as a city. Exposure on the national level can only help the city grow and improve. Restaurants, hotels, shopping, recreation, and all aspects of College Station will benefit from exposure.  Last season all the hotels were sold out during game weekends. This trend will only expand as we become more nationally recognized.  The SEC is a conference known for traveling well. Fans from Alabama, LSU, and Ol' Miss, all travel to away games and will be taking up lodging in College Station.  The need for game day housing will be bigger than ever this season which is only good news for our town.